Welcome to MAC Center for the Arts!
The MAC Center for the Arts, also known as the Memphremagog Arts Collaborative Inc, is a nonprofit arts collaborative of artists, craftspeople, performing artists, published authors/illustrators, and supporting members.
MAC's member-run Gallery and storefront, located at 158 Main St, Newport, VT, features the juried work of members and includes a wide variety of paintings, photography, books, pottery, jewelry, metalsmithing, music, fiber arts, fine furniture, wood craft, basketry, stained glass works, and much more.
Downstairs at MAC, our Exhibition Gallery is home to an ever-changing calendar of art exhibits, workshops, classes, performances, and lectures.
Founded in 2007, MAC is a 501(c)3 nonprofit organization with a mission to nurture our community's understanding, appreciation and support of the arts, cultural heritage and humanities.
Current Exhibition:
"In Focus"
a photography exhibit, highlighting MAC photographers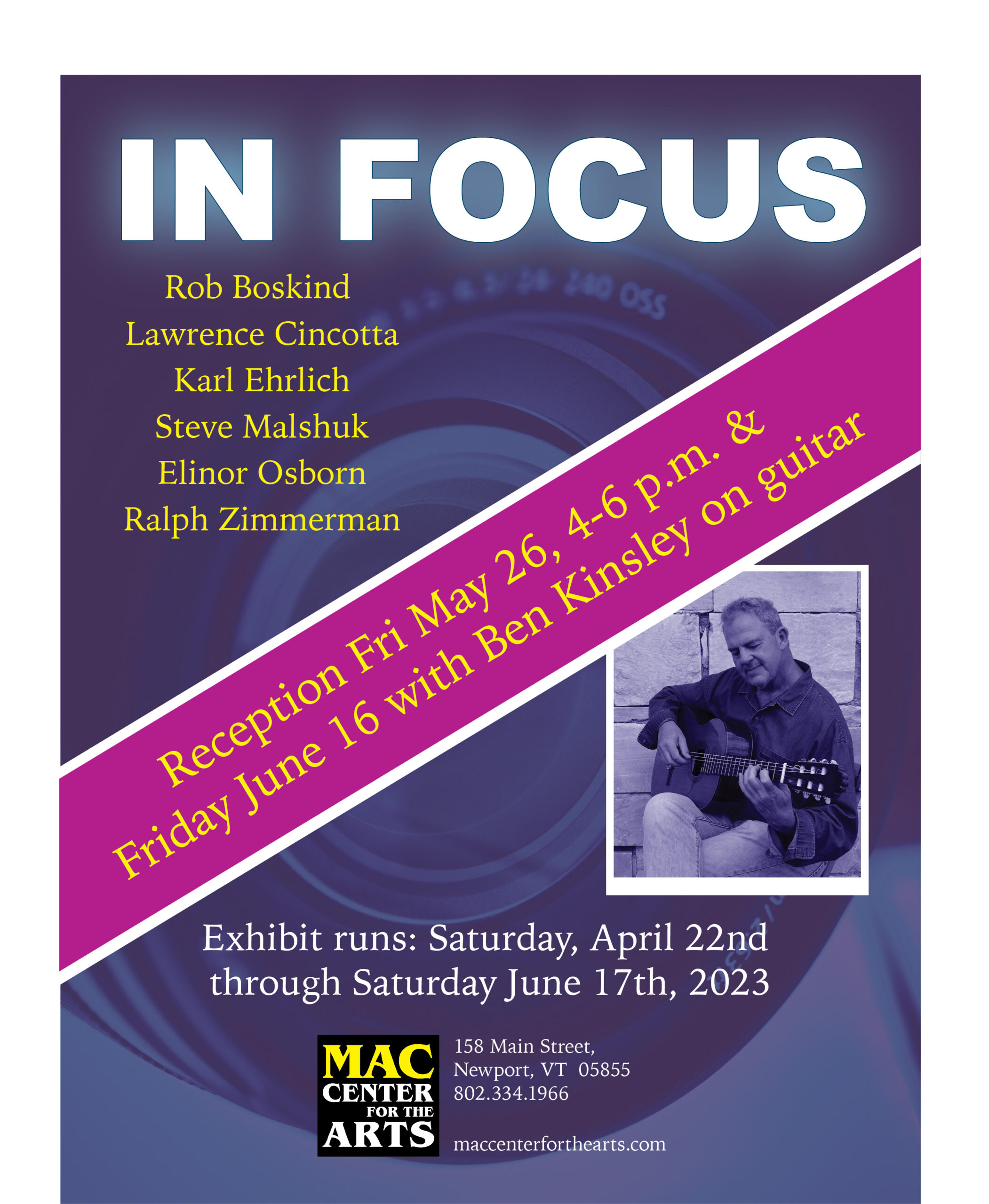 "In Focus" Photography Exhibition
In Focus, a group photography exhibition and the first exhibit of 2023, kicks off on Saturday April 22 and runs through Saturday June 17 in the MAC Center for the Arts Downstairs Gallery.
The exhibit features MAC photographers Rob Boskind, Lawrence Cincotta, Karl Ehrlich, Steve Malshuk, Elinor Osborne and Ralph Zimmerman and the works span a wide range of subject matter.
MAC is located at 158 Main Street, Newport. For more information: (802) 334-1966, www.maccenterforthearts.com.
An Opening Reception, and a Closing Reception!
Opening Reception Friday May 26, 4-6pm, and Closing Reception on Friday, June 16th.
Ben Kinsley, guitarist and MAC performing artist member, will perform at both.
All are welcome!
MAC Artist of Distinction Carolyn Ferrara