Past Exhibitions and Events | 2022
Slideshow!
(Use arrows along the sides.)
MAC Member Mixer at Eastside Restaurant
A MAC Member Social was held at the Eastside Restaurant in the Dancing Sails Room on June 26th, 2022. It was a welcome chance to get together with old and new friends, as it had been a couple of years due to the pandemic. Members and their guests enjoyed each other's company, and many were meeting for the first time. It was a good time for all!
Please enjoy the slideshow.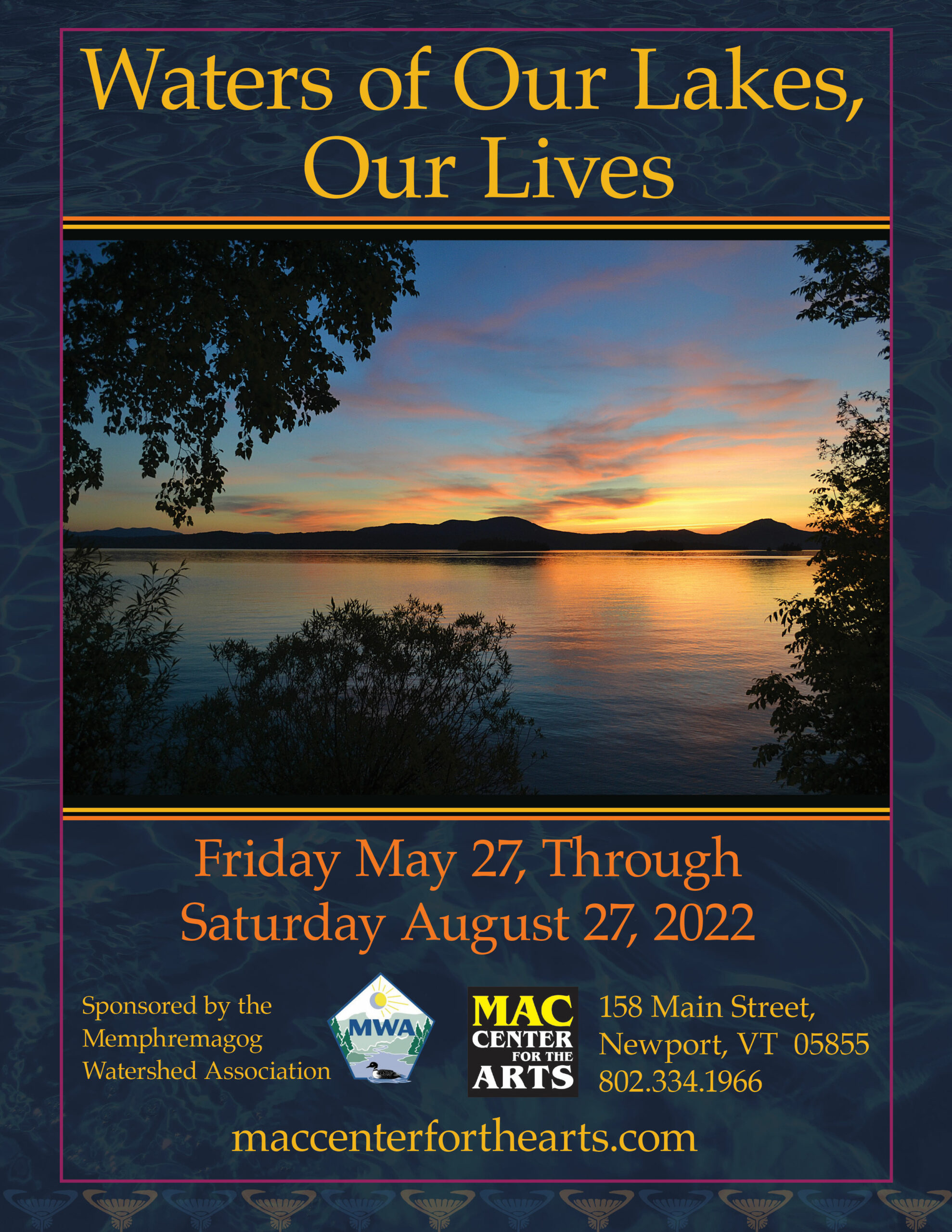 Waters of Our Lakes, Our Lives
In the aftermath of Covid and with much unsettled in our world, we wanted to imagine an exhibit of relevance to time and place, to here and now, and to appreciate some of the ways we work as artists and crafters by thinking about 'Waters of our Lakes, our Lives' here in the Northeast Kingdom, where water influences our lives, not only in what we do, but in how others return here year after year to enjoy the lakes, rivers and streams so abundant in the Northeast Kingdom.
Environmental concerns for both the aquatic plant and animal lives of our waters exist allows free interpretation by makers, ranging from realism to abstraction in painting and photography, fiber arts, print making and pottery, representing only part of what MAC members do.
We are grateful to the Memphremagog Watershed Association for their support in this exhibition.
Dates – Friday May 27 to Saturday August 27. Downstairs Gallery.
MAC Summer Hours: Tuesday – Saturday 10 – 5, Sunday 10-4, Closed Mondays
MAC Center for the Arts, 158 Main Street, Newport, Vermont.  802 334-1966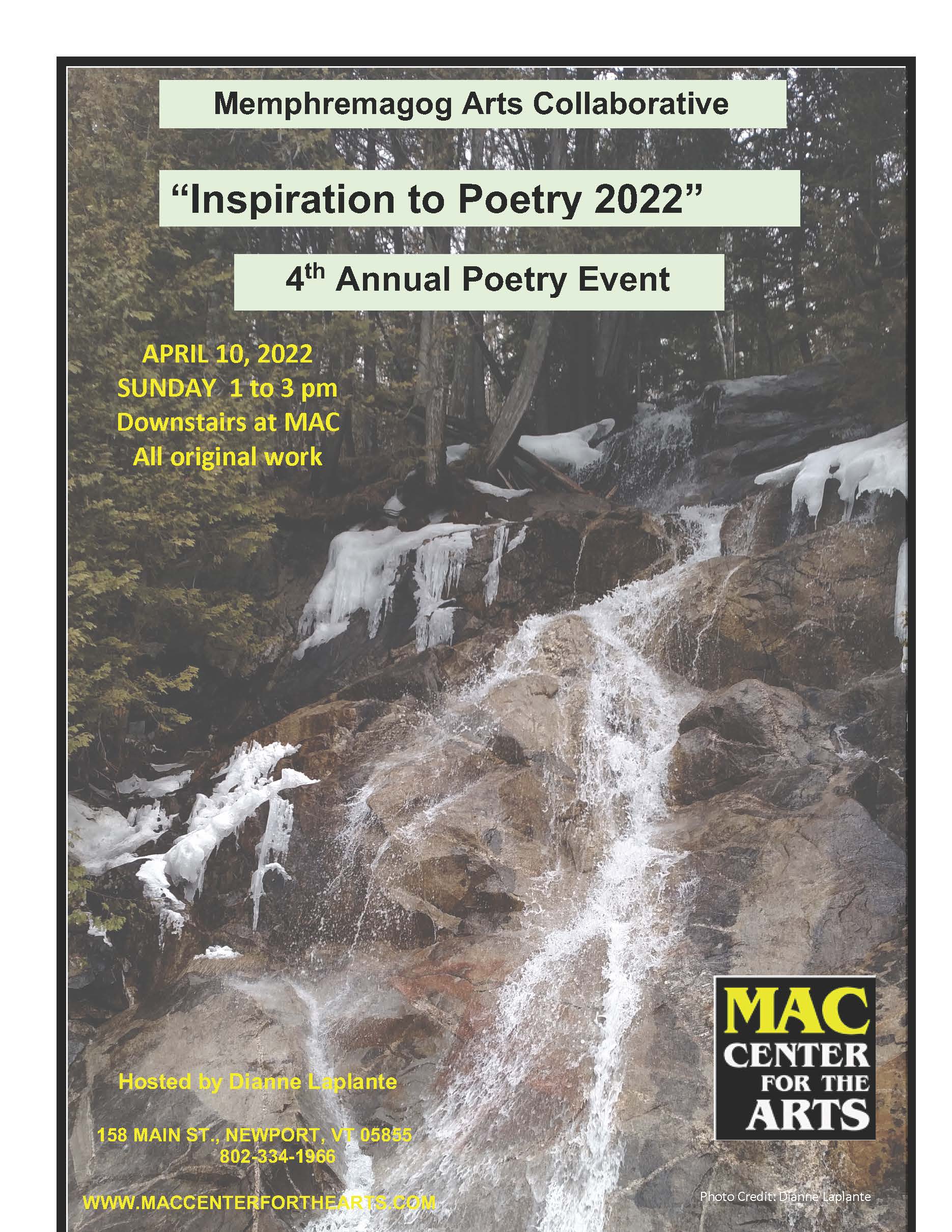 Celebrating Poetry Month at MAC Center for the Arts!
MAC Center for the Arts is excited to host a live poetry reading event on Sunday afternoon, April 10th from 1-3.  This free event will take place at the MAC, 158 Main Street Newport, in the downstairs gallery.  The readings feature all original works by both MAC members and the general public.
If you would like to present your own original work, we welcome you to select up to 3 poems, with a total time limit of 5 minutes – please email Dianne Laplante at laplante@vtlink.net to reserve a time slot.  Refreshments will be served and we invite all, from the lover of poetry to the curious, to attend this fun event!
"A poem begins with a lump in the throat, a sense of wrong, a homesickness, a lovesickness."  – Robert Frost
Slideshow!
(Use arrows along the sides.)
February 26 and March 26, 2022
Abstract Art Workshops with Mercy Manning
MAC member, artist Mercy Manning, will present free hands-on abstract painting workshops on Sat, February 26 and Sat, March 26, from 1:00-3:00, at MAC Center for the Arts, 158 Main St, Newport, as part of Newport Downtown Development's Hot Cocoa Saturdays.
Mercy will show you how to create your own abstract art, using items found around the house, such as spatulas, expired credit cards, and your fingers!
These workshops are free to attend and are open to all ages (children must be accompanied by an adult. Canvas boards, acrylic paints, and tools will all be supplied. There will be a maximum of 10 people per hour, first come, first served.
Come prepared for a messy art experience – bring your imagination, and leave with your new work of art!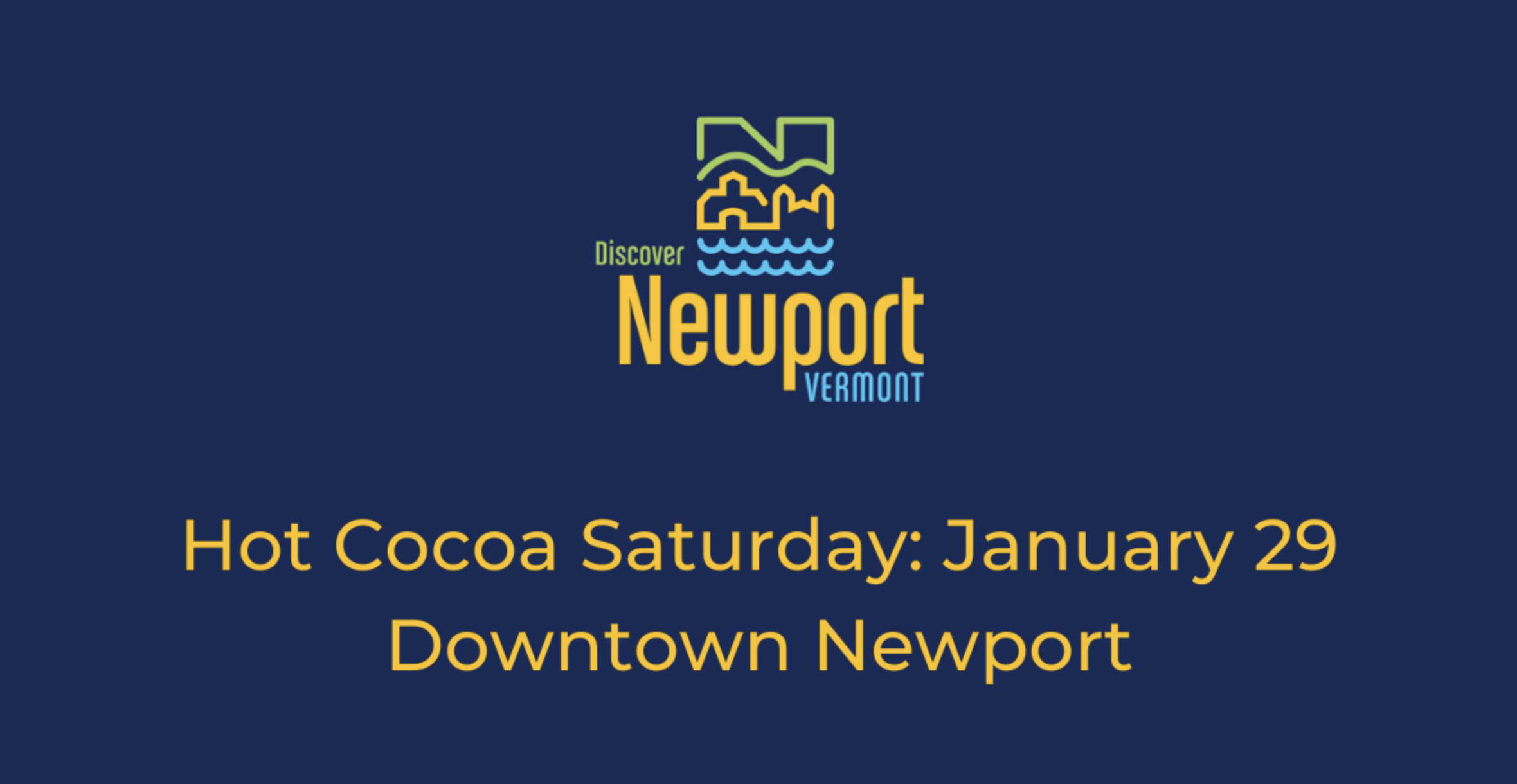 20% off Sale at MAC Center for the Arts
The Newport Downtown Development group is planning a series of 'Hot Cocoa Saturdays' on the last weekend of each month January – March.
The first 'Hot Cocoa Saturday' will be this Saturday, January 29th. MAC will participate by having a one-day 20% off everything sale as our special event!
The MAC Center is located at 158 Main Street in downtown Newport. Hours of operation are Tuesday to Sat 10:00 a.m.-5:00 p.m., Sunday 10:00 a.m.-3:00 p.m.; closed Monday. For more information, phone (802) 334-1966.